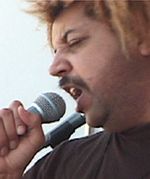 JOYSLAM: Canada's premiere Aboriginal (Mohawk) Funk/Rock Solo Artist
Joyslam is a Solo Project created by Aboriginal (Mohawk) Artist RJ Martine while being accompanied with an array of .talented musicians. Joyslam continues to delight music fans of all genres with their unique brand of high energy movin', groovin', Rock, Funk, Dance infused Reggae/Ska & Pop music. Combined with their unbridled new WOW factored sound.
Joyslam have had 3 singles chart on North America's Aboriginal Music Countdown, a Top 40 styled Syndicated Radio program. With the single "Set The World" hitting #1.
Joyslam recently performed on iheartradio's Bands on the Verge CHTZ-FM (ON), been featured on Jim Patterson Broadcasting's Fresh Tracks CHWF-FM (BC), conducted an On-Air Interviews for CFNR-FM's (BC) "Journeys" & both CFJB-FM (ON) shows Spirit Winds and New Music Hour.
Several of our tracks are on ERG/Multi Music professional DJ series discs. And have performed several major Music Festivals.
Most recently our music has been added to Spafax, which provides In-Flight music for both the North American & International Airline Industry.
Joyslam has obtained both North American & International Airplay including radio stations in Canada, USA, Australia, Germany, Italy, Japan, Ireland and Norway.
The reaction has been incredible. Joyslam's Social Media global presence and especially their Fan base have grown exponentially as witnessed on Reverbnation (https://www.reverbnation.com/joyslam)  &  Facebook (www.facebook.com/Joyslammusic).
The Press & Media have been beyond positive with their reception of Joyslam, as exampled:
"Joyslam continues to deliver"  Multi Juno Award winner Joao Carvalho of Carvalho Mastering.
John Pfeiffer of The Aquarian Magazine wrote:
"If you're looking for something different than the usual folk rock hipness of the present day, Joyslam is the musical key for your listening pleasure."
Richard Howard of A Side Magazine wrote of Joyslam:
"Where have you been all our lives, Joyslam?!"
"Let me be clear about something. I'm not being coy, I'm not being facetious and I'm not speaking ironically. I LOVE JOYSLAM. And I'll scream it from the mountain tops. I want this guy to have all the success in the world, so show this to your Auntie, Grandpa and third-cousin twice removed."
Slam Fans and future Fans can explore  www.Joyslam.com for ALL the latest & greatest in Joyslam happenings.
RJ has an intense passion for music and in Concert he's a charismatic powerhouse who engages his audience, commanding their attention, by using drama and music to elevate the crowd revealing his creed that ~
"Music is Everything, Anything Else is a Distraction !!"